Quality hand made Curtains and Soft Furnishings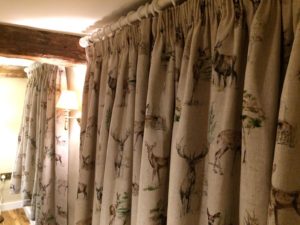 Sew 'n' Sew is a well established high quality hand made Curtains and Soft Furnishings business run by Belinda Hopkins, that has been providing a bespoke service to suit all customers needs. Sew 'n' Sew has been based on Exmoor since 1998.
I offer made to measure hand finished curtains and complementary soft furnishings to fulfil your individual requirements. To achieve an attractive, professional and high quality finish I always use good quality linings and interlinings.
You can choose to have your curtains and soft furnishings made from a range of affordable fabrics that I can supply in various designs and colours or alternatively, I am happy to make them from your own choice of fabric.
I also offer a full alteration service for those that may have recently moved house and wish to re-use their curtains and a restoration service to replace old linings.
Sew 'n' Sew is based in Dulverton and serves West Somerset, the Devon boarder and all surrounding areas with a home consultations and measurement service for all curtain orders.
For a personal touch; come to Sew 'n' Sew for an experienced and knowledgeable service:
Full consultation at your home to meet your requirements
Measurement service
Range of fabrics, curtain poles, tracks and venetian blinds.